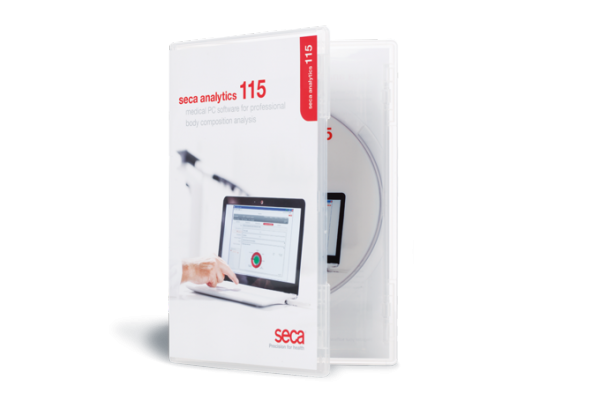 The PC software seca analytics 115 supplements the mBCA 515/514 with several practical functions.
With the network-capable software seca analytics 115, doctors can process the measurements from their seca 360° wireless products. The seven modules on the PC significantly improve the quality of the medical examination. Assistance is provided not only by the three integrated modules "Energy", "Cardiometabolic Risk" and "Growth/Development", but also the four additional seca mBCA modules "Fluid", "Function / Rehabilitation", "Health risk" and "Raw impedance data". In the total of seven modules, medical inquiries about the patient's general health status and nutritional condition are answered, measurements compared to standard values and findings displayed in a therapy planner. The entire analysis can be printed on a conventional printer on a DIN A4 sheet specially configured by the user. This type of diagnostic assistance adds a completely new dimension to medical advice.
More concise: All results now on a one page printout.
Even clearer: Optimized design with new elements for unambiguous interpretation of result charts and measurements.
More definitive: Information on total muscle mass and individual muscle mass for all extremities (left and right arm, left and right leg) – and now also for the torso.
Even more conclusive: Depiction of phase angle for prediction of health risks, now available with chronological progress.
Even faster: Directprint function with simple press of a key (seca analytics 115).
Operation

Communication

360o wireless via USB adaptor
CALL ME BACK
For sales and advice please call
0116 255 5092
UK sales only accepted. All prices are subject to VAT and delivery charge.
| Model | Capacity | Accuracy | Platform Size | Weight | Approved? | Price |
| --- | --- | --- | --- | --- | --- | --- |
| seca analytics 115 | 3 licences | - | - | - | Yes (Class III) | £449.00 |
Please note that all prices exculde VAT, to be added at standard 20% rate.